Ok, here's the scoop. I need to make a quilt square for the 2011 County Fair raffle quilt. (Yes, "need to.")
And I need your help!
But don't worry, your help won't go unrewarded.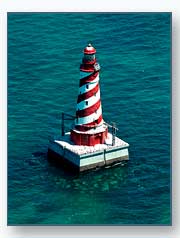 This year, the quilt theme is Michigan lighthouses. That is a very nice theme. The organizers want a depiction of an
actual
Michigan lighthouse. I have to submit the block with the name and/or location of the lighthouse.
I do not have pictures of any Michigan lighthouses.
Read carefully now, this is where your part comes in:
If you have a picture of a Michigan lighthouse that you think I could translate into a quilt block, please send it to me.
(christinacreating [at] yahoo -dot- com)
What do you get out of it? Well, if I chose to use your photo, I will send you a quilt block of your picture. Wouldn't that be great?? I will chose the fabrics, and it will be one of the practice blocks I plan to make. (Last year I made two practice blocks before cutting into the fabric provided by the fair.)
Now, I can't promise you that you'll like the block--that is up to you. But I can promise you that I won't send out anything that I'm not proud of.
So, please look through your vacation photos, search your tags or peruse your "My Pictures" files and see what you've got. The picture should show a clear image of the lighthouse and I will need to know which one it is. (I'm sorry I can't use a picture that you know is from your trip in Michigan but can't remember where it was.)
The fair's not until the beginning of August, but I need to start working on this if I want time to do a couple practice squares...please send pictures as soon as you find a minute.
THANK YOU!! This should be fun, right?!